The library building
Almedalsbiblioteket was built in 2000–2001 and was inaugurated on 22 September 2001.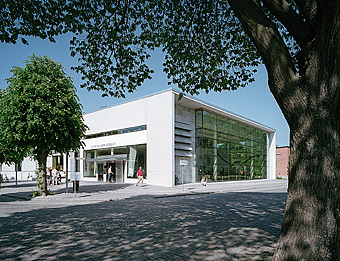 The Exterior
Architects Christer Malmström and Anders Grape wanted a building with modern design and modern materials in harmony with the medieval world heritage city of Visby. The austere exterior shape, with its simple straight shapes are largely the Gotland building tradition, as well as the choice of materials and colors. By mixing concrete with cement and pigments, a color close to the limestone was created. The whole color scheme of various shades of gray, white and gray-green is the Gotland landscape colors. In the large glass surfaces the medieval city is reflected, both outside and inside the building.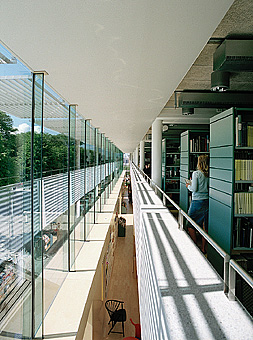 The Interior
Interior designers Annika Tengstrand and Olle Salmonsson have created a functional and beautiful interior that interacts with the house and the architect's intentions. The library is compactly decorated with shelves in straight lines to achieve a simplicity that matches the building. In the free and open spaces are reading spaces, where you can fully enjoy the house's openness. The materials are oak, ash, gray homespun, black leather, black paint and a green hue that captures both the glass facades and green Almedalen outside. The intention has been to design an environment in which architecture, external environment and interior design interact and create rooms that are both practical and restfully beautiful. The library foyer is in itself an aesthetic experience due to the choice of building materials and the space that the glazed space permits. The floor of limestone with a hint of marble was designed by Karin Tyrefors.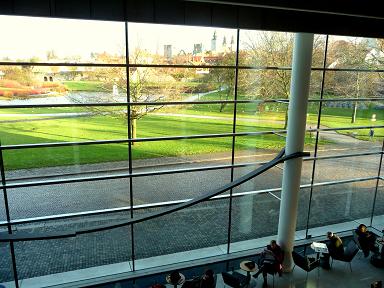 Environment and Engineering
The library is an example of how architecture, technology and efficient use of the surrounding nature, can create excellent environment, indoor climate and minimal environmental impact. With the help of the Baltic Sea water and the sun's rays keep the library a cool place in summer and warm in winter.
Facts
■ Exterior Surfaces with a high degree of isolation.
■ Glass Surfaces with optimized isolation.
■ Systems for renewable energy.
■ Cooling system with sea water as cooling source, the pump system powered by solar energy.
■ Control system with a high degree of individual control.
■ Ventilation system with low flow rate.
■ The transfer of heat to adjacent buildings.
As a whole, the system is so energy efficient that the proportion of purchased electrical energy for running costs only amount to approximately 10–12% of normal.